Wyoming Virtual Office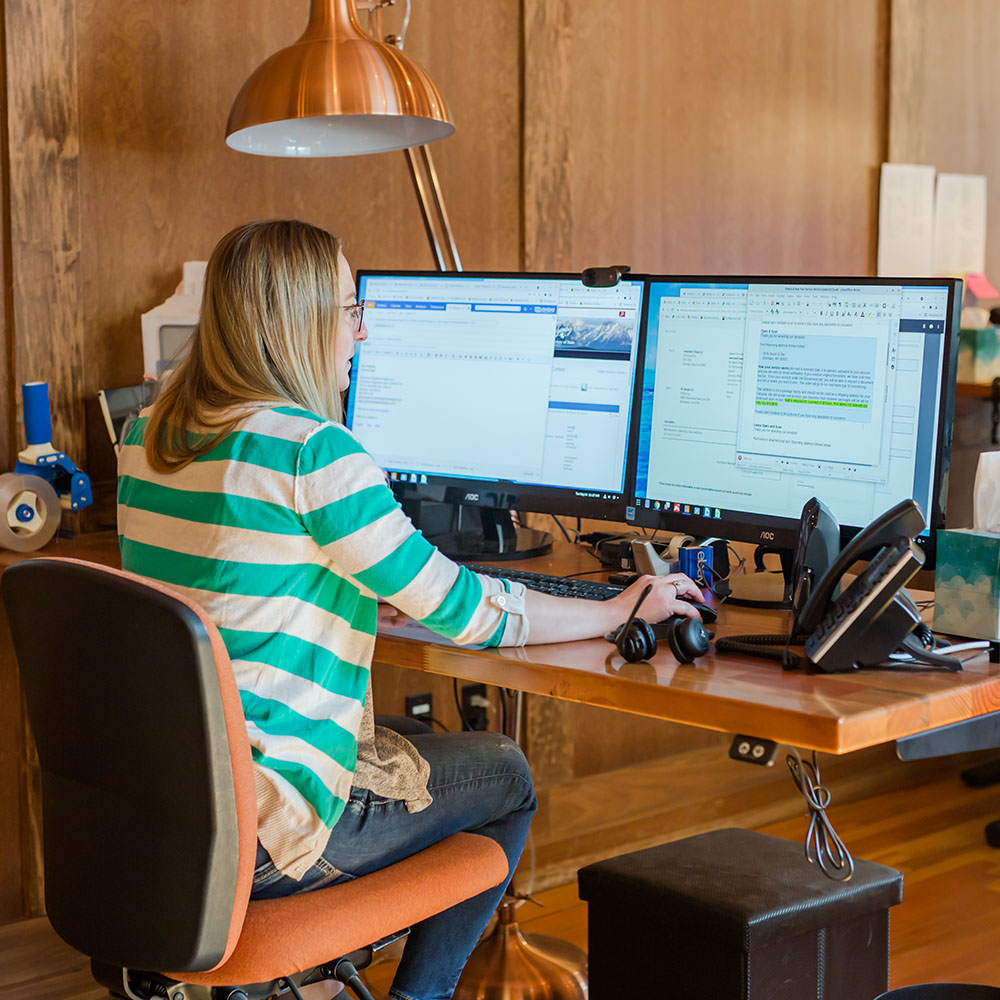 A Wyoming virtual office is an office service in Wyoming that offers many of the perks of a traditional office space and commercial address, without the need to own or rent a whole office location. Our Best Wyoming Virtual Office combines the needs we see most from Wyoming business owners into one package at as low of a cost as possible.
As local Wyoming business owners ourselves, we built the best virtual office option for Wyoming LLCs and corporations. Our virtual offices are only for our clients—businesses founded or registered in Wyoming, and we've only included the aspects of virtual office that our clients have needed, so you're not paying top dollar for unnecessary extras.
$19/Month Wyoming Virtual Office Service
Our Wyoming virtual office service includes:
Wyoming Phone Service
Safeguarding your personal phone number is just as important as protecting your address. When you sign up for our virtual office package, you'll get your own Wyoming virtual phone line (with a 307 area code) that you can use to call, text, check your messages and more from any device—now with handy apps available for both Android and iOS users. Our Wyoming Phone Service is entirely internet powered, which means it travels with you and is free to use, helping you keep your personal information secure without a steep phone bill every month.
A unique address for your Wyoming business at a commercial building
(No P.O. boxes, no home address)
Your Wyoming virtual office business address will be a respectable one. We're right downtown in Sheridan, WY, across the street from the bank and the post office, situated in a nice brick building. That's where your office address will be located. We take pride in our downtown address and in ensuring all of our clients look good for their clients.
An Office Lease
Our Wyoming virtual office service and lease can be canceled anytime—we're not trying to lock you in, we're trying to help create a paper trail for Wyoming nexus, as most of our virtual office clients would like to be taxed as a Wyoming business
Unlimited Mail Forwarding
A virtual office in Wyoming wouldn't be complete without Wyoming mail forwarding, and you can be sure you'll be getting the best and most reliable mail service when you hire us. When we bought our office, mail forwarding logistics played an important role in our decision making process, and we figured it doesn't get much better than being right across the street from the post office. The virtual office mail forwarding package includes:

Unlimited mail forwarding
Daily open and scan
Email notifications when new documents are available to view
Filtering and shredding of junk mail
Physical document storage for 60 days and the option to have original mail forwarded
Our virtual office is our most comprehensive business address and mail management option. Compare all our address and mail offerings:
Free Mail Forwarding
Pony Express
Mail Forwarding
Homesteader's
Mail Forwarding
Best Wyoming Virtual Office
Secure Online Account
X
X
X
X
Scanned Documents
10/year
+10/year
+25/year
unlimited
Commercial Suite Number
X
X
X
Month-to-Month Office Lease
X
Business Phone Service
X
Free*
$49/year
$99/year
$19/month
*with registered agent service
Get Wyoming Virtual Office Service
The Best Virtual Office is at Best Wyoming
Getting a reliable Wyoming virtual office service can be tricky; sometimes you just don't know what kind of Wyoming virtual office you'll be getting. In our small town, if you don't provide a good service at a fair price, your business won't last. We've taken those views and ideals and applied them to our Wyoming virtual office service, even though most of our clients live far outside our city limits.
If you're starting a new business and want to reap the benefits Wyoming has to offer, you've come to the right spot. We can help service your business from its beginning and to its end. We can help you form a Wyoming LLC or incorporate in Wyoming, and our Wyoming registered agent service is unmatched. However we can help your business succeed, please let us know. Best Wyoming Registered Agent LLC is here to meet all of your Wyoming business' needs.
Wyoming Virtual Office FAQ:
Will a Wyoming Virtual Office help me keep my personal address private?
Absolutely. When you hire us for Virtual Office Service, we give you a unique Wyoming Business Address so you won't have to use your personal address for business mail.
Can I use my Wyoming Virtual Office phone number on my cell phone?
Yes. Our Phone Service gives you an individual phone number along with an app compatible with iOS and Android. While you can access your phone number through any web browser, the phone app allows you to make and receive calls, get voicemails and send SMS messages all through your own device.