Wyoming Mail Forwarding
Wyoming mail forwarding is a service in which a client is provided with an address where they can have mail sent, and when the mail arrives to the service provider's address, the service provider then forwards the mail to the client's preferred destination. Businesses utilize mail forwarding services for many reasons, such as personal address protection and outsourcing, and to provide their clients an enhanced sense of security.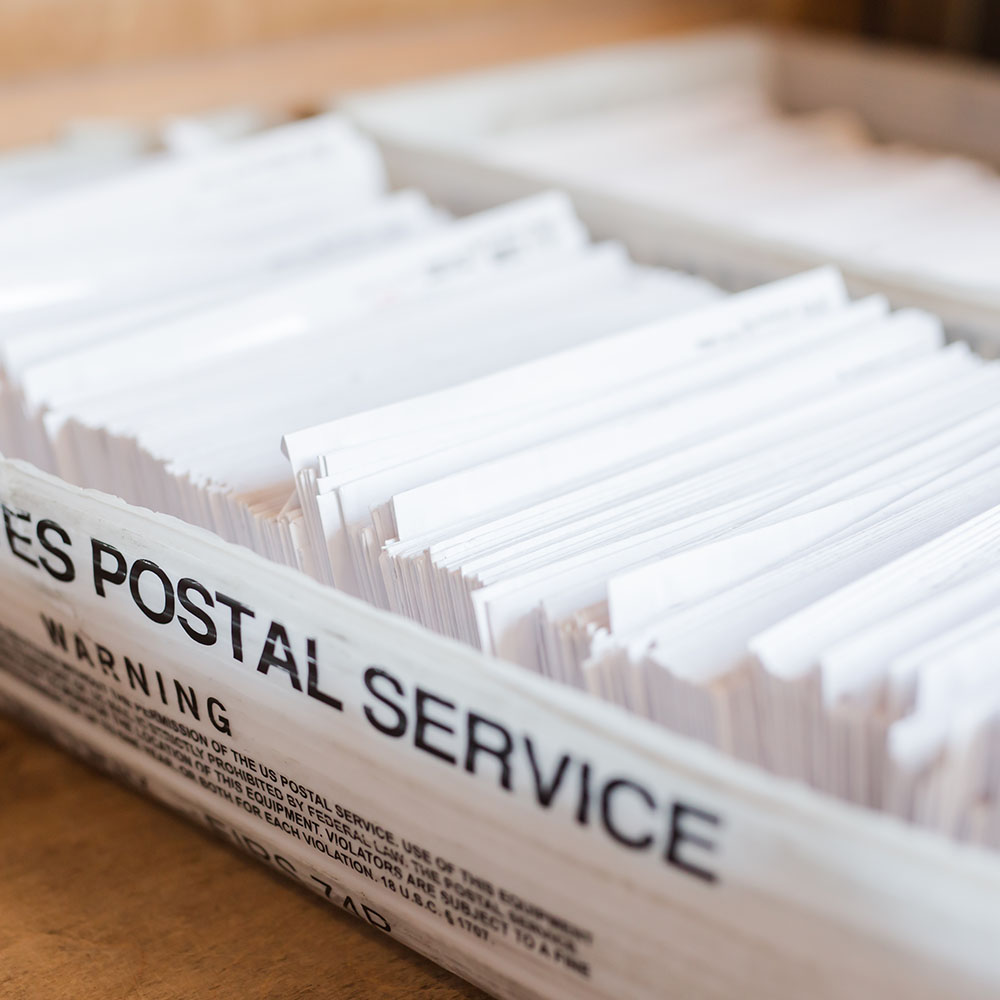 We provide Mail Forwarding Service as an option for all of our Registered Agent Service clients, including clients who hire us to form a Wyoming LLC or a Wyoming corporation. If you would like to take advantage of one of our Mail Forwarding Packages, simply select the Mail Forwarding option on the sign-up form. Our mail forwarding service is available for all of our customers with businesses located within the US, its territories, and Canada.
Below, you can learn more about our Wyoming mail forwarding service.
Wyoming Mail Forwarding Overview
Wyoming Mail Forwarding Packages
How Our Wyoming Mail Forwarding Service Works
$50 Wyoming Mail Forwarding Service
At Best Wyoming Registered Agent, our services already include the free use of our Wyoming Business Address on your state filings, as well as a limited free mail forwarding option (up to 5 non-state docs scanned per year) for our clients who don't need to use our Wyoming address for their business mail. But, we also know it's important for many businesses, in-state and out-of-state, to have a reliable, secure Wyoming mailing address. That's where our Mail Forwarding packages come in.
With our Wyoming mail forwarding service, your business will be issued its own, unique mailing address in Wyoming where we'll receive your mail and forward it on to you. We do not use post office boxes! Your business will be given a respectable Wyoming address in our building and a secure online account to which we'll scan and send digital copies of your Wyoming business's mail. Plus, you have the option to have your mail physically forwarded to your preferred address instead.
Wyoming Mail Forwarding Overview
No matter which package you choose, our mail forwarding service will include:
A secure, online account where you can receive digital copies
A unique mailing address for your Wyoming business
Junk mail shredding—we don't forward garbage, we shred it!
Daily scanning—you'll receive a scan of your mail the same day we receive it
Mail forwarding service from a company you can trust
In addition to the actual service we provide to all of our mail forwarding, business formation, and registered agent service clients, each client has our solemn promise that we will work to provide you with the very best service possible.
Wyoming Mail Forwarding Packages
We believe in living simply, and that belief extends to the types of mail forwarding packages we offer. It's been our experience that a lot of businesses don't get much mail, but on occasion need to receive a letter or two. What those businesses are really after is a Wyoming mailing address, and we've created a package for them.
Other Wyoming businesses are seeking nexus; they want to be taxed and treated as a Wyoming company, even if they don't have a regular office space or location here. We've also created a mail forwarding package for those businesses as well.
Beyond that, there's not a lot of middle ground. That's why we have only two mail forwarding packages. Choose the package that works best for your company!
The Pony Express Package: $50 a Year 
This is our basic Wyoming mail forwarding plan. You choose whether we open or scan your mail, or forward it through the mail. When you sign up for the Pony Express Package, you receive:
Up to 2 pieces of mail per month (you choose: open and scan, or forward original)
A unique Wyoming address at a respectable, commercial address (your address will not be a home or a PO box)
If you receive additional mail beyond your quota, we will forward that mail upon request at a rate of $15 per item
Note that the two versions of our Pony Express Package appear separately on your sign-up form as the "$50/year – Open and Scan Plan" and the "$50/year – Forward Original Plan") to allow you to select the option that works for you.
Wyoming Homesteader's Package: $50 a Month 
We're not attorneys or tax professionals and cannot offer legal advice, but if you're seeking a Wyoming nexus (or just a hearty mail forwarding service), our Wyoming Homesteader's mail forwarding package is one place to start. This package is also known as our Wyoming Virtual Office.
With the Homesteader's package or Virtual Office, you'll receive:
Up to 15 pieces of mail per month
Daily open and scan, or weekly envelope scan and physical forwarding
Additional mail beyond monthly quota will be forwarded upon request for $15 per item
Wyoming Phone Service (a fully-functional virtual business line with a 307 area code)
Unique, commercial Wyoming address for your business that comes with a lease
Most businesses desire a lease as it creates a paper trail in hopes that it will lead to Wyoming nexus, where their business, if out of state, will be taxed as a Wyoming business. While we can't promise a Wyoming nexus, a proper lease at a commercial address is a good place to start.
How Our Mail Forwarding Service Works
When you sign up for Wyoming mail forwarding with us, the following will happen:
We'll send you a thank you email right off the bat, followed by an additional email that will contain your business's new, unique Wyoming mailing address. You can immediately begin using this address for any legal purpose—it's now your address.
When we receive a piece of mail for your business, we will either open and scan the item to your online account, or forward the original to you through USPS.
If you reach your monthly or yearly limit of mail items, we will either hold that mail, or forward your mail upon request, for $15 per item. Don't worry about being charged for junk mail. Junk mail and items received by us as your registered agent, such as service of process and official state documents, do not count towards your monthly or yearly limits.